Donate
The money I get from donations will be put directly back into the comic. For example, getting my own webhost, or to start production cost of some future item I'll be selling here. People who donate two dollars or more get a gift! The current gift is a wallpaper of Crystal and Sylphy, and is available in both normal and wide screen. When you donate please write a note letting me know what your screen resolution is.



&nbsp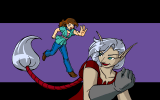 Print Shop
The stores are now open!

My Printfection store Mostly shirts here.
My CafePress store For anything not offered by Printfection

Fun Stuff
If you have an idea of something you'd like to see here, let me know.

Crystal's necklace $7.50
Made from 12mm dyed fossil beads and threaded with stretch cord. To order, just click the button above. Images will come after I get my first order.


This page and the things in it are copyright Lanea Zimmerman and are not to be used elsewhere, in any form.
The Sealed Gate is hosted on Comic Genesis, a free webhosting and site automation service for webcomics.